Since Friday Follow ended a couple months ago I have been looking for a good way to meet new bloggers. And I think I found it :)
It's called Tuesday Tag-Along and is hosted by
Twee Poppets
this week.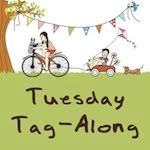 I love friend making days like this because I always love meeting new bloggers! While it is always great to get more followers I really love these link ups for all the great new friends I make :) Many of my favorite blogs were found through Friday Follow and I'm excited to find new friends today.
If you like my blog then please follow me :) I love new followers and I'm sure you do to. So if you follow me then leave me a comment and I'll make sure to then head over to your page. If you don't like my blog then no hard feelings, move on to the next blog :)
So you want to participate in this blog hop?
2. Blog about this great Tag-Along
3. Link Up
4. Start Making some new Friends!! :)
Okay so now get to know me:
1. Head over to my

About Me

page to learn more
Let me know you stopped by :) I can't wait to meet some new friends today!!