Sarah Mae has been one of my favorite bloggers since I began this blogging journey. I have always loved her articles and was so excited when she published her first ebook called, "31 Days to Clean: Having a Martha House the Mary way". And I am sad to say that I have not read it yet! I keep meaning too but it gets set on the back burner.
Well I'm excited to say that the blogging community is doing a Homemaker's Challenge around this book starting September 1st and I am so excited to begin.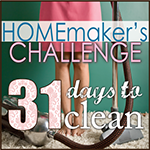 Head over to the Homemaker's Challenge website to check it out for yourself.
AND get Sarah Mae's book for half off right now with coupon code: Homemaker
That makes this book $2.50! Oh yeah, go check it out HERE
And there will be a link up every Friday to share how the challenge is going. This is exactly what I need to get motivated!
*I was compensated for this post in any way, I'm just excited to share!!*