Okay I want to share with you something that I meant to share with you a while ago (woops) that starts this week.
It's called the Homemakers Challenge.
That has a nice ring to it right?
How does Amy explain what this challenge is? She says,
"Homemaker's Challenge is a weekly link-up blog hop that puts emphasis on having fun and sharing ideas. It features a showcase of women who have stepped up for the challenge and embraced the art of making a home."
How fun does this sound?! Well the challenge just launched and this weeks challenge involves baking some wonderfully unique cup cakes :)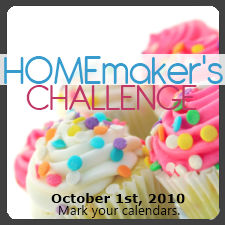 So if you are passionate about homemaking or just want to whip together some yummy treats then head over and link up! Oh..and did I mention...there will be prizes!!!
Check back here on Friday for my own unique cup cakes!